Hi everybody!
You remember that a Family of Grave Diggers was specifically built to enable easy modding right? So today I'll start talking about how you can dive in and mod the game!
Step 1:
Find the game:
If you bought it on Steam:
Open the Steam client
go to your [Library]
scroll down to a Family of Grave Diggers (yeah, it's under 'F')
right click and select 'Properties'.
Select the tab [Local Files]
click the button [Browse local files...]
If you bought it elsewhere then I can't know where it's installed but as you most probably launch the game with an icon, do this!
Right click icon
Click 'Properties'
Click the button [Open File Location] (or 'Find Target' on XP)
If you don't have an icon, then you'll know where GraveDigger.exe lives, just open that folder.
Found it? Phew! Lets copy it over somewhere so we won't meddle with the 'original' game files as it will be overwritten by any new Steam update for example, so go up one level and copy the folder [a Family of Grave Diggers] somewhere else on your computer.
Enter the freshly copied folder and you should now see all of the compiled code and data, it should look something like this (plus a couple of save files probably):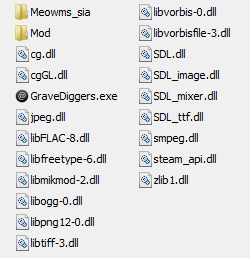 This is the root folder, and it's filled with terrifying files mortals shouldn't meddle with (just kidding) but don't fret, we won't touch anything in there with the exception of the 'Mod' folder and eventually, save files. And of course launch the GraveDiggers.exe to check out our newly brewed mod!
But enough talking, open the Mod file and you'll find something like this:

Doesn't seem like a lot eh, but here we actually have all the nifty things that we'll want to modify or add to. Or delete if there is something you dislike!
font : here we store fonts for the game (lets skip this for now)
gfx : All the graphics are stored here
map : All the fullblown maps, like the map where you start or the wizards tower
mapparts : the Schrödinger map parts, it's like puzzle pieces that's get stuck together to generate the maps
music : hmm hmm ta daaa!
Script : here lives all the scripts who control about everything in the game
sound : Bang crash, sound effects here!
So lets dive in shall we?
Follow me to part two then!